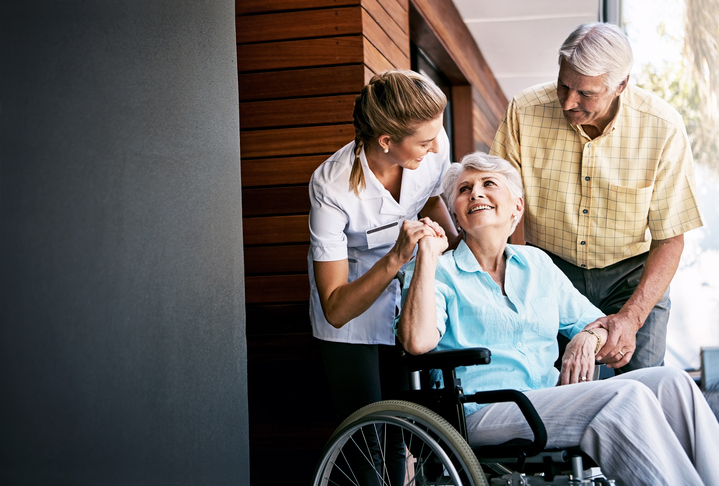 We care. Always.
At UT Health Tyler, we realize the importance of first and last impressions. That's why we created our "We Care" Concierge team to warmly greet guests upon arrival to the hospital and to provide a caring send-off when they leave, all the while helping with any needs they may have. This complimentary concierge service is available to all patients and visitors, including the following basic services and more according to each situation:
Directions to your destination
Wheelchair assistance
General information/questions
Patient escort to admitting
Additional eyes and ears for security
These are a few of the ways we helped our guests and made a difference during their visits to UT Health Tyler:
A member of the concierge team encountered an elderly man who was struggling to walk into the hospital. A concierge offered a wheelchair ride to help him arrive at the emergency department.
An elderly woman with a walker was dropped off at the front to visit her husband. The concierge helped her to a wheelchair and delivered her to the room.
A visitor didn't have any money to get a drink for a child so the concierge gave her apple juice.
A dad wasn't sure how to change a diaper on his baby while his wife was having surgery, and the team member helped him.
A concierge helped calm an injured child who arrived in the emergency department driveway. He came back for a follow-up visit and told the concierge he wasn't scared anymore because of how he helped him.
A patient arrived for an outpatient procedure, and they were confused about where to park. They came to the wrong area and the "We Care" representative explained where to park and offered them a free pass.
A concierge helped a guest use a tracking app to find a lost cellphone.
A representative gave an anxious child some animal crackers and a teddy bear.
To learn more about our commitment to excellent service with our We Care team, call 903-597-0351.