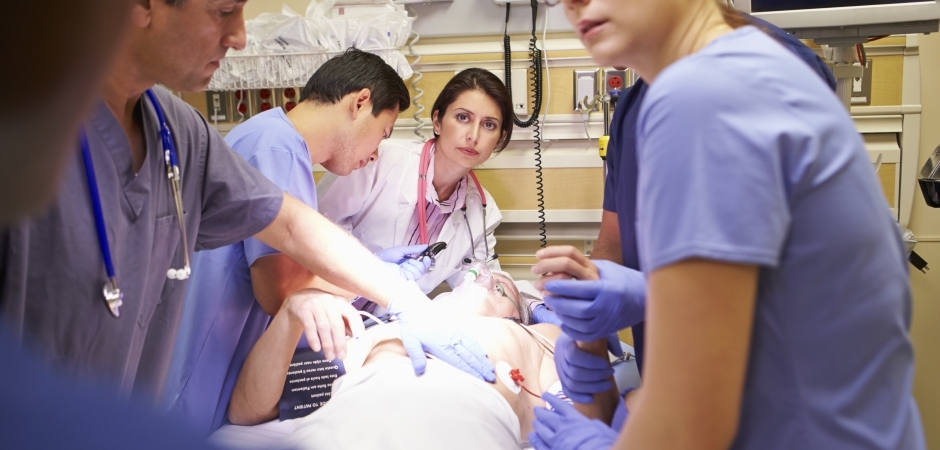 Hospital Emergency Room (ER) in Tyler, TX
The highest level of emergency care in East Texas is available at UT Health Tyler. Our emergency department is staffed with board-certified physicians and trauma-trained nurses and is equipped with state-of-the-art technology. Around the clock, every day of the year, our team stands ready to provide the highest level of care for your emergency -- big or small. 
Level 1 trauma center
UT Health Tyler is home to the region's only Level 1 trauma center, as designated by the Texas Department of State Health Services. That means we have the resources and staff to respond to diverse medical needs, such as mass casualty and trauma events, severe burns, head injuries, heart attacks, and strokes. Studies show that receiving treatment at a Level 1 trauma center increases a seriously injured patient's chances of survival by an estimated 20 to 25 percent.
In addition, UT Health Tyler is designated a Comprehensive Stroke Center by The Joint Commission and has been designated an Accredited Chest Pain Center with Primary PCI by the American College of Cardiology.
Features of our level 1 trauma center
24-hour in-house coverage by general surgeons, and prompt availability of care in specialties such as orthopedic surgery, neurosurgery, anesthesiology, emergency medicine, radiology, internal medicine, plastic surgery, oral and maxillofacial surgery, pediatrics and critical care. 
Referral resources for communities across the region.
Leadership in trauma prevention and education.
Caregivers are continually educated on the latest advances in trauma care.
Comprehensive quality assessment program.
Research and education programs.
Substance abuse screening and patient intervention
UT Health East Texas Emergency Department on South Broadway in Tyler, TX
The emergency department on South Broadway is an extension of the UT Health Tyler emergency department, making emergency care more convenient for south Tyler residents. The facility houses a wide range of equipment and offers patients access to advanced technology, such as CT scans and other diagnostic imaging. If a higher level of care is needed, patients will be transferred to the Level 1 trauma center at UT Health Tyler. 
What to expect at the emergency department.
A specially trained triage nurse will assess you and determine the severity of your condition and in what order you will be treated. Patients who are critically ill or seriously injured are treated first, regardless of their time of arrival. Some patients may bypass the triage process. In these circumstances, we appreciate your cooperation. 
UT Health East Texas EMS and AIR 1 answering the call. 
When an emergency happens and seconds count, the men and women of UT Health East Texas EMS and AIR 1 answer the call. Each ambulance and emergency helicopter features Pulsara, an advanced mobile communication technology to track heart and stroke patients in real-time before, during, and after arrival at the emergency room. Every second saved during an emergency improves the likelihood of a life being saved.