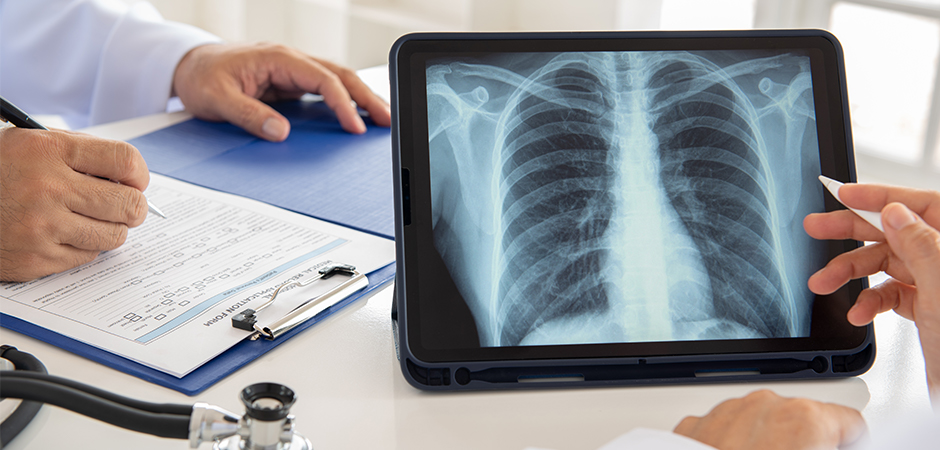 Pleural effusion is an abnormal buildup of fluid in the pleural cavity. The pleural cavity is the space between the lungs and the chest wall. The fluid builds up between the two layers of the pleura, which is a thin layer of tissue that covers the lungs and lines the chest wall. When pleural effusion is related to cancer or there are cancer cells in the fluid, it may be called malignant pleural effusion.
Causes of pleural effusions
Pleural effusion can be caused by cancer cells spreading to the pleura. It can also develop if cancer cells block or change the flow of lymph fluid in the pleural cavity.
The following cancers are more likely to cause pleural effusion:
Symptoms of pleural effusion
Pleural effusion may not cause any symptoms at first, or the symptoms may be mild. Symptoms of pleural effusion can vary depending on the amount of fluid and how quickly it builds up. They include:
Shortness of breath or difficulty breathing, which is called dyspnea.
Cough.
Pain or a feeling of heaviness in the chest.
Anxiety.
Fear of suffocation.
Fever.
Malaise, which is a general feeling of discomfort or illness.
If shortness of breath, or dyspnea, gets worse when you lie down, it is called orthopnea. It might get better if you stand or sit up. Shortness of breath may lead to you being more tired than usual because it can wake you up at night.
Diagnosis
Pleural effusion is usually diagnosed by:
Physical exam
Chest X-ray
CT scan
Treating pleural effusion
If you have pleural effusion, your healthcare team will monitor you closely and suggest ways to treat it. Fluid often builds up again after it is removed, so you may need more than one treatment. You may be offered the following treatment options for pleural effusion.
Draining the fluid
Surgery
Cancer treatment
Medicines
To learn more or schedule an appointment, call:
UT Health East Texas Pulmonary Institute at North Campus Tyler at 903-877-7916
UT Health East Texas Pulmonary Institute at S. Fleishel - A department of UT Health Tyler at 903-592-6901