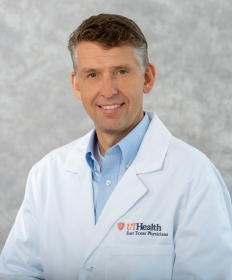 4.6 out of 5
Physician Group:
UT Health East Texas Physicians
Practices At:
Hours:
Monday - Friday 8 a.m. - 5 p.m.
*Age Range: Six months old and up
Doug Johnston, DO, is a family medicine physician at UT Health East Texas Physicians on South Broadway in Tyler who enjoys getting to know his patients. "I'm very curious about their lives, and I've learned a lot of things about my life from my patients." 
He appreciates working at UT Health on South Broadway, which has an emergency department equipped with a full-service lab and diagnostic equipment. "It's kind of a one-stop shop. I don't have to send patients out to other facilities very often."

Board Certifications:
American Board of Family Medicine, Board Certification
Education:
Family Practice Residency: Iowa Lutheran Hospital, Des Moines, Iowa
Doctor of Osteopathic Medicine: Kansas City University of Medicine and Biosciences, Kansas City, Mo.
Bachelor of Science: Zoology, Brigham Young University, Provo, Utah
Kansas City University of Medicine and Biosciences, Summa Cum Laude