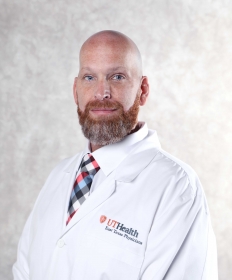 Physician Group:
UT Health East Texas Physicians
Practices At:
700 Olympic Plaza
Ste. 600
Hours:
Monday - Thursday: 7:30 a.m. - 5:00 p.m.
Friday: 7:30 a.m. - Noon 
Neal Burgess, PA-C, is a physician assistant at the UT Health East Texas Orthopedic Institute in Tyler. He believes in taking a team-based approach to healthcare. "One person cannot do everything alone. By using a team approach, we as healthcare providers, are able to improve patient outcomes across the board.
"I know it sounds cliché, but I really did get into healthcare to help people. It gives me great pleasure to see my patients improving and returning to their normal lives. I chose to focus on orthopedics because I try to live a very active lifestyle myself, so I understand the importance of helping my patients maintain an active lifestyle," he said.
When not seeing patients, Neal enjoys spending time outdoors, jogging, carpentry, hunting and fishing.
Education:
Master of Physician Assistant Studies: The University of Texas Health Science Center at San Antonio
Bachelor of Science: Agriculture, Stephen F. Austin State University, Nacogdoches
National Commission on Certification of Physician Assistants, Certification