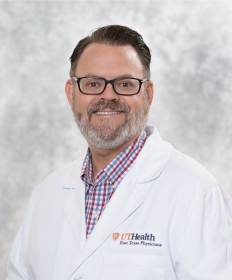 4.5 out of 5
Physician Group:
UT Health East Texas Physicians
Practices At:
1000 E. Fifth St. Ste. 100
Hours:
By Appointment:
Monday - Friday
8 a.m. - 5 p.m.
Walk-Ins Welcome:
Saturday 
9 a.m. - Noon
*Age Range: Newborn to 18 years old
Michael Austin, MD, is a pediatrician at UT Health East Texas Physicians on Fifth Street in Tyler. He believes you must be a counselor, advocate and listener in order to be a successful pediatrician.
"Much of what we do in pediatrics is not really related to acute health issues. It's about forming relationships with families and answering patients' deeper questions," he said. "Many times, patients will bring in a child with a cold, but what they're really concerned about are bigger problems with sleep, behavior, etc. As a pediatrician, my philosophy is to meet the needs of both the child and the parents."

Education:
Pediatric Residency: The Children's Hospital, Denver, Colo.
Doctor of Medicine: The University of Texas Health Sciences Center at San Antonio
Bachelor of Science: Westmont College, Santa Barbara, Calif.