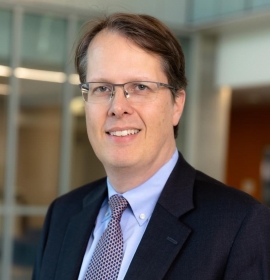 Jarett D. Berry, MD, is the Roosth Distinguished Professor in Clinical Research and Professor and Chairman of Medicine at UT Tyler School of Medicine. He completed his undergraduate degree at Baylor University and medical school at UT Southwestern in Dallas. He subsequently completed his internal medicine residency at UT Southwestern and his clinical cardiology fellowship and cardiovascular epidemiology research fellowship at Northwestern University in Chicago.  
Prior to moving to UT Tyler School of Medicine, Dr. Berry was on the faculty at UT Southwestern Medical School for nearly 15 years. While at UT Southwestern, Dr. Berry served as the PI of the Dallas Heart Study, a large observational cohort study of nearly 3,000 Dallas County residents designed to characterize cardiovascular disease in an aging population. He leads a nationally recognized program of research as a cardiovascular epidemiologist with a focus on the prevention of cardiovascular disease across the lifespan. His NIH-funded research program has established that a healthy lifestyle in mid-life is associated with a markedly lower risk for cardiovascular disease outcomes across the lifespan.  
As a board-certified cardiologist, he integrates his scientific expertise with his clinical practice, helping patients incorporate risk-reduction strategies through lifestyle changes and/or medications to reduce the long-term risk for cardiovascular disease. "Preventing heart disease is like saving for retirement," says Dr. Berry. "The little changes we make early in life can have a profound impact decades later." 
Dr. Berry enjoys the outdoors in East Texas with his wife, Ashleigh, and their five children.

Board Certifications:
American Board of Cardiovascular Medicine, Board Certification
Education:
Fellowships:
Cardiovascular Epidemiology
Northwestern University
Cardiovascular Medicine
Northwestern University
Residency:
Internal Medicine
UT Southwestern Medical Center
Doctor of Medicine:
UT Southwestern Medical School
Master of Science:
Clinical Investigation
Northwestern University
Bachelor of Science:
Biology
Baylor University
Waco, Tex.
American Heart Association, Member
American Heart Association, Epidemiology Leadership Committee