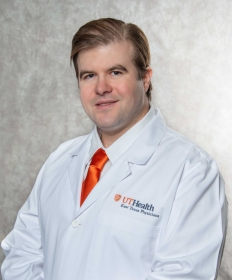 4.5 out of 5
Specialty:
Ear, Nose & Throat (ENT)
Head and Neck Surgery
Physician Group:
UT Health East Texas Physicians
Practices At:
2210 Three Lakes Pkwy, Ste. 100
Hours:
Monday - Friday
8:00AM - 4:00PM

Eric Flavill, MD, is a board-certified otolaryngologist at the UT Health East Texas ENT Center in Tyler. As an otolaryngologist, Dr. Flavill specializes in treating conditions affecting the ears, nose and throat either medically or surgically. He makes it a priority to help patients understand their diagnosis and treatment options, and works with them to choose the best treatment  for their unique needs, priorities and life circumstances.

"My personal approach is to favor trying the lowest risk and most minimally invasive treatments and procedures first. My goal for every patient is to deliver the best possible results, and to achieve those results with the lowest risk and smoothest recovery." said Dr. Flavill.
He offers surgical treatments ranging from tonsillectomies to complex nasal reconstruction and revision sinus surgery. "For patients who don't want or need surgery in the operating room, I have great options for simple in-clinic procedures that offer substantial improvement in nasal and sinus symptoms with essentially no time away from work and school.
Blogs Written by Dr. Flavill
Board Certifications:
American Board of Otolaryngology - Head and Neck Surgery, Board Certification
Education:
Residency: Otolaryngology - Head and Neck Surgery, The University of Texas Southwestern Medical School at Dallas
Internship: The University of Texas Southwestern Medical Center at Dallas

Doctor of Medicine: The University of Texas Southwestern Medical Center at Dallas
Bachelor of Science: Biology, The University of Texas at Dallas
Inventor and lead researcher of Flavill-Gilmore Tension Free Septal Perforation Repair Technique - 2014
Veterans Administration Patient Safety Award - 2011

Alpha Omega Alpha