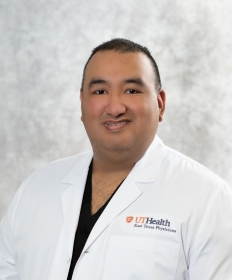 3.9 out of 5
Physician Group:
UT Health East Texas Physicians
Practices At:
700 Olympic Plaza Circle, Ste. 850
Hours:
Monday - Friday: 8 a.m. - 4 p.m.
As a board-certified and fellowship-trained interventional pain specialist, David Adrian Olvera, MD, enjoys hearing how his work helps patients overcome chronic pain and improve their lives and relationships.
"It's rewarding when you have family members come back and say, 'Before we met you, it was difficult to be around this person. Now we have them back and we enjoy them again.' They get their quality of life back that was missing for years."
Dr. Olvera performs injection therapy for patients who are suitable candidates, along with nerve blocks, epidural injections (under fluoroscope when necessary for patient safety), spinal cord simulator trials and other advanced treatments to relieve pain.
"I provide personal care and make sure patients feel that their needs are always addressed at every visit."
Board Certifications:
American Board of Anethesiology, Board Certification
American Board of Anethesiology, Pain Medicine Subspecialty, Board Certification
Education:
Pain Medicine Fellowship: University of California San Francisco, CA
Anesthesiology Residency: University of Texas Medical Branch at Galveston
Doctor of Medicine: University of Texas Medical Branch at Galveston
Bachelor of Science: Pre-professional Health, College of Science and Engineering, Texas A&M University- Corpus Christi
Texas Medical Association, Member
American Pain Society, Member
American Society of Regional Anesthesia and Pain Medicine, Member
American Medical Association, Member
American Society of Anesthesiologists, Member
American Osteopathic Association, Member