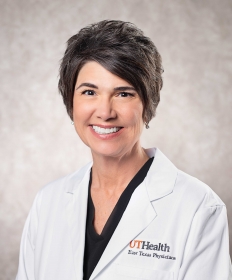 Practices At:
2210 Three Lakes Pkwy, Ste. 100
Hours:
Monday - Friday
8:00AM - 4:00PM
Amanda Edwards, AuD, is a diagnostic audiologist at the UT Health East Texas ENT Center on Three Lakes Parkway in Tyler. Dr. Edwards has always desired to help people. She knew in grade school that communication disorders was her path and in graduate school it became apparent audiology was a fit for her personality and skills.
"My favorite position as an audiologist has always been as a diagnostician in a medical practice. I enjoy the pace and I enjoy knowing that my patients can likely be healed. Having said that, I have also seen the power of restoring the ability to communicate through the use of hearing instruments."
Dr. Edwards provides diagnostic services for all ages, birth through the life span. She also will fit for hearing instruments on those 12 and up. Dr. Edwards said "My care philosophy is very much the Golden Rule, except instead of "Do unto others as you would have them do unto you", mine is "Do unto others as I would have done to my grandmother."
When not seeing patients Dr. Edwards enjoys spending time with her grandchildren. She is also a self-described voracious reader and avid learner. 
Education:
Doctor of Audiology: Arizona School of Health Sciences, Mesa
Master of Science: Lamar University, Beaumont
Bachelor of Art: Louisiana Tech University, Ruston