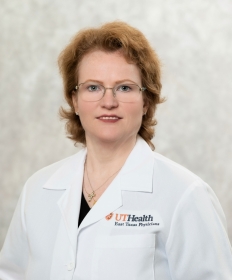 Physician Group:
UT Health East Texas Physicians
Practices At:
1000 E. Fifth St.
Ste. 400
Hours:
Monday - Friday 
8 a.m. - 5 p.m.
Lisa Graves, MD, practices the kind of compassionate care she expects for her own family. "I want the same care for my patients that I would want for my mother. I want them to get the best care possible."

Dr. Graves dreamed of being a physician as a child. Today she lives that dream practicing general internal medicine with specific interests in all types of preventive medicine including diabetes, hypertension and obesity. "The best part about being a doctor is being able to make a difference in people's lives. It's very rewarding to have somebody come in that was at risk for diabetes and I've helped them lose weight and they don't get diabetes. I like helping people live a better life."

When Dr. Graves joined UT Health, she became part of an elite group of doctors known as UT Health East Texas Physicians: specialists in a variety of medical disciplines who share a commitment to putting patients first. Visit Dr. Graves at the UT Health East Texas Physicians clinic in Tyler, where she provides care that is second to none.
Board Certifications:
American Board of Internal Medicine
Education:
Resident: Medical College of Ohio, Toledo, Ohio

Doctor of Medicine: Medical College of Ohio, Toledo, Ohio

Bachelor of Science: Cum Laude, University of Toledo, Ohio

Chemical Research Assistant: Department of Chemistry, University of Toledo, Ohio
Plaque of Appreciation, South Carolina Vocational Rehabilitation Department, Award

Ohio Board of Regents Scholarship, Award

Altschuller Scholarship, Award

American Medical Association, Member

South Carolina Medical Association, Member

Edisto Medical Society, Member

Kiwanis International, Member

Alpha Lambda Delta Honor Society, Member

Alpha Epsilon Delta Pre-medical Honor Society, Member