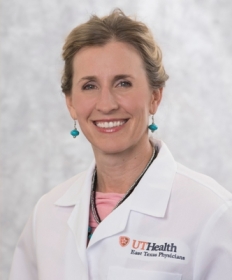 4.6 out of 5
Physician Group:
UT Health East Texas Physicians
Kendra Tay Hoyle, MD, is a board-certified family medicine physician, who helps patients of all ages achieve their goals through a healthy lifestyle. "I try to identify what health hazards might keep them from living the way they want, and then work with them to enact lifestyle changes."
Dr. Hoyle knew she wanted to be a doctor since she was a child. "My father was a physician, and my family did medical missions in Latin America. I had an opportunity to work alongside him and always knew I wanted to be a doctor."
Board Certifications:
American Board of Family Medicine, Board certification
Advanced Cardiac Life Support, Certification
Education:
Family Medicine Residency and Family Medicine Internship: Loma Linda University Medical Center, Loma Linda, CA
Doctor of Medicine: University of Oklahoma College of Medicine, Oklahoma City, OK
Bachelor of Arts: Pepperdine University, Malibu, CA
Pepperdine University, Cum Laude Honor