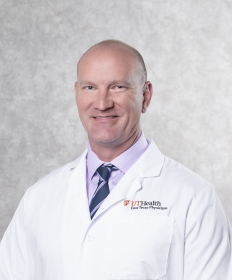 Specialty:
Orthopedics
Trauma Surgery
Physician Group:
UT Health East Texas Physicians
Practices At:
700 Olympic Plaza
Ste. 600
Hours:
Monday - Thursday: 7:30 a.m. - 5:00 p.m.
Friday: 7:30 a.m. - Noon 
Anthony Rhorer, MD, is a board-certified, fellowship-trained orthopedic trauma surgeon at the UT Health East Texas Orthopedic Institute in Tyler.
During his residency at Duke University Medical Center, he spent two months at the world famous Ilizarov Science Center for restorative traumatology and orthopedics in the Russian Federation, which is the birthplace of modern limb lengthening and deformity correction. Dr. Rhorer completed his trauma fellowship at Tampa General Hospital/Florida Orthopedic Institute where he honed his skills in multiple trauma and post-traumatic reconstruction.
He was the official fracture surgeon for Super Bowl XLIX and the medical director for the Munich X games in 2013.
Board Certifications:
American Board of Orthopedic Surgery, Board Certification
Education:
Fellowship: Orthopedic Trauma Surgery, Florida Orthopedic Institute, Tampa
Residency: Orthopedic Surgery, Duke University Medical Center, Durham, N.C.
Fellowship: Traumatology and Orthopedics, Russian Ilizarov Science Center, Kurgan, Russian Federation
Doctor of Medicine: Duke University School of Medicine, Durham, N.C.
American Academy of Orthopedic Surgeons, Fellow
Orthopedic Trauma Association, Member
Piedmont Orthopedic Society, Member
Arizona State Trauma Advisory Board, Orthopedic Trauma Liaison
Pipeline Worldwide, Board Member