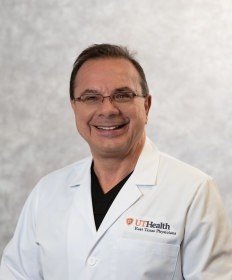 Physician Group:
UT Health East Texas Physicians
Practices At:
700 Olympic Plaza
Ste. 410
Hours:
Monday - Thursday
8 a.m. - 5 p.m.
Friday
8 a.m. - 12 p.m.
Andrei C. Gasic, MD, is a board-certified gastroenterologist at UT Health East Texas Physicians Tyler who offers expertise in many GI procedures. Dr. Gasic is one of the few area specialists providing pediatric GI services (patient ages 6 to 18), and he speaks fluent Spanish. "I went into medicine because I was interested in science, and initially in research, but I gravitated to patient care. The fact that I am bilingual helps me serve the Hispanic community."
In addition to standard GI procedures, like upper endoscopy and colonoscopy, Dr. Gasic offers patients the ERCP/SpyGlass system, helping doctors diagnose and treat cancers of the bile duct and pancreas; HALO ablation technology, to remove Barrett's tissue from the esophagus; minimally invasive hemorrhodial procedures; assessment of reflux disease; evaluation of GI motility disorders and treatment of liver diseases.
Experienced in physician education and research, Dr. Gasic has established ties with the regional medical community. "I've always liked UT Health Tyler and the system's highly regarded physicians."
In Philadelphia, Dr. Gasic earned his bachelor's degree in biology from The University of Pennsylvania and his doctor of medicine from the Medical College of Pennsylvania.
Blogs Written by Dr. Gasic
Board Certifications:
American Board of Internal Medicine, Board Certification
American Board of Internal Medicine-Gastroenterology, Board Certification
Education:
Residency and Internship in Internal Medicine: Baylor College of Medicine, Houston
Doctor of Medicine: Medical College of Pennsylvania, Philadelphia
Bachelor's Degree: Biology, The University of Pennsylvania, Philadelphia
Glaxo Research Award
American College of Gastroenterology, Member
American Gastroenterology Association, Member
Texas Society of Gastrointestinal Endoscopy, Member
Texas Medical Association, Member